Text Settings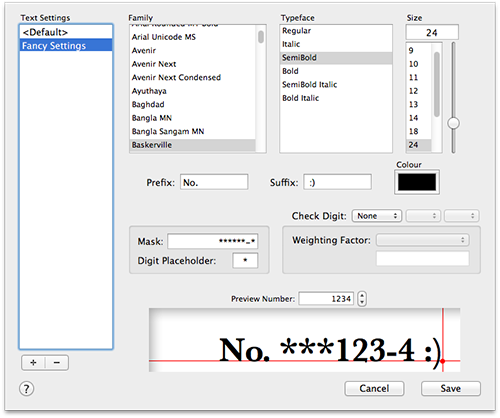 The Text Settings sheet allows you to create and modify the appearance of the the numbers printed on the page. You can specify:
Font Face
Font Size
Text Colour
A prefix (text displayed to the left of the number)
A suffix (text displayed to the right of hte number)
A mask to allow you to customize the layout of the number by padding the number with any character you specify and inserting characters in the middle of the number
A calculated check digit to be added to the end of each number
Click the + button to create additional text settings and the – button to delete the selected text settings.
Double-click on a text settings name to rename it to something meaningful
The text settings you define will appear as items in the Text pop-up menu in the main document window.
Each number on the page can have different text settings applied.